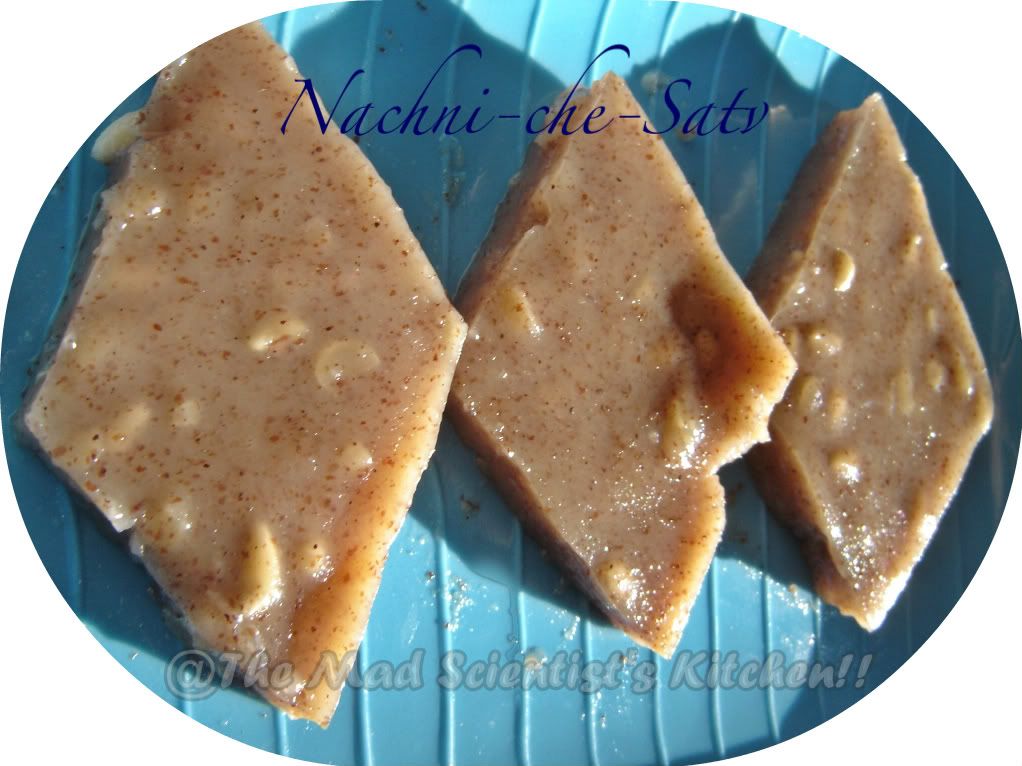 S
taying in Goa from the time I got married 23 years to be exact has exposed me to quite a few wonderful dishes in this cuisine.
There is a preconceived notion that there are no vegetarian dishes in this cuisine. I remember when I was to be married all my neighbours and friends kept on telling me that I will have nothing but "Samudra chawlikai" that is cluster beans from the sea. Of course fish is the staple food here in Goa, but a Goan does "go veg" at least 2 times in a week and on all kinds of festivals, panchmi, chathurtis etc.
Any celebration and you have "mangane" a kind of kheer and of course "Nachni-che-satv".
Nachini or ragi is a very nutritious. It is good for infants and old and the in-betweens also. Its calcium and iron is easily assimilated by the body. Try this wonderful grain in sweets and savoury food stuff alike.Read more about it here.
Today I will share with you the making of nachni-che-satv. I wish I had had the patience to click pictures of the stepwise making. Maybe I will next time.
Traditionally the nachni is soaked overnight then ground in the grinding stone and strained through the "banshire".
"Banshire" is the fine cloth that is used to drain rice. In Goa many people prefer boiled rice. The water is boiled in a handi and when it boils the washed and drained rice is added. When it is almost done a fine cloth called banshire is tied over the mouth of the handi and the rice is drained. The water that is drained is generally collected and called "nival".
Nival has a high carbohydrate content is generally fed to babies, convalescents and the old alike. Soup made out of out of nival is delicious and is called "payz", it is considered good for upset tummy, cold & fever.
Sorry I am digressing from the main topic. Coming back to satv….
Traditionally the nachni is soaked overnight & ground with water.
If you have read me correctly you will know I must have made some changes. Yes I have. I used the flour yes the ragi flour. Yes the store brought atta.
To make nachni-che-satv you will need:
½ a coconut freshly grated
½ cup jaggery (adjust as per taste)
1.
Soak the ragi or nachni flour in water (about 1 cup) for about 1 hour. The skin of the ragi will float on top. Decant it.
2.
Now add some more water (about 1 cup), stir it and let it stand overnight. Next day decant it. Add some water and let it stand for say another hour.
3.
Now strain it through a fine muslin cloth till there are no more black flecks in the cloth using water to dilute the mixture. I used a strainer, this is a tedious process and after 4-5 times I got bored and decided to include the flecks as much need fibre in my diet. Maybe the cloth would have given me a much better result.
4.
Now measure your strained ragi. Mine was about a cup.
5.
Now put the strained ragi in a kadhai/wok, thick bottomed please and keep aside.
6.
Grease a small plate with ghee.
7.
Measure out equal amount of water using the same cup you used to measure the satv and add to the mixer also add the coconut and grind the coconut to a fine paste.
8.
Strain the coconut and collect the liquid. This is coconut milk.
9.
Add it to the kadhai/wok. Add the some jaggery, salt & cashew nut pieces also.
10.
Transfer to low flame and heat the contents. Taste the contents and add more jaggery if you need.
11.
Stir(generally I prefer the perforated spoon to do this) occasionally at first but when it starts coming together stir continuously and starts forming a lump transfer it to the greased plate..
12.
Let the contents cool completely before you cut them into squares or diamonds.
I made this when my SIL came down for a day. I knew she had not eaten this in ages and I had company to eat this. Thanks Smita.
Please feel free to increase the amount of coconut used you will get a thicker milk and the contents will be richer.

You can also make the satv soaking and grinding the nachni.

As a baby m

y younger daughter used to drink this as her last feed. I used to always add cooked carrots, mango, pumpkin puree or if she had a cold turmeric.
Sending this to Raksha's Desserts with Coconuts organised by Raven. Raksha has posted the more traditional way of making this satv. Do check her out.